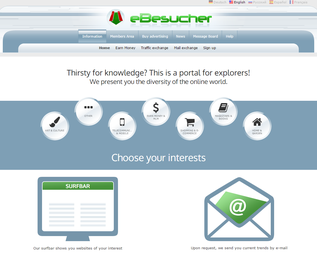 Earn money for surfing in the web and reading mails:
You will get paid for: Having pages displayed within the automatic visitor exchange, reading emails and referring new members You will be rewarded with points, which act as a currency on ebesucher. Having a website displayed will get you 0,8 visitor exchange points every 15 seconds. For reading an email, you will get between 0,8 and 4 mail exchange points. Whenever someone signs up through your referral link, you will get payed an additional bonus of 8% on the earnings that your referral generates. The earned points will remain onto your account until you decide to request a payout.
online since: 2002
The current exchange rate for visitor- and mail exchange points, are:
100000 surfing points=2.10euro
100000 email points=84.01euro
Payment Processors:  Withdrawal limit: $2, Paypal, EU-transfer
In addition, the earned points can be exchanged for virtual currencies or other services from the site messageboard.