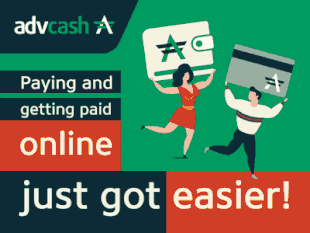 A big advantage of Advanced Cash is that they are constantly adding new partners and currencies. So you can not only transfer money via Advanced Cash, but also for example several cryptoscripts. To fill your account you have countless possibilities to do so through one of the many partner sites. These include: Changer.com, Netex, E-obmen, Internetmoney.Exchange, XaltChange and many more.
With these interfaces you can move your money between different vendors, such as from OKPay to Advanced Cash or from Qiwi. In addition, you can also exchange cryptos such as bitcoins, Litecoins and all the others that are currently on the market.
Another advantage, which is true for most payment systems of this kind, is that the money transfer is really super fast. If you make a referral via ADVCash this is usually within a few seconds.
To ensure that the processes at AdvancedCash remain so fast and run smoothly, they work together with different partners. Among them is Bitpay, Protectimus (responsible for various security systems of banks and other large companies), IDChecker (for checking documents) and Interkassa (leading payment system in the Russian area).
In this way, ADVCash becomes a versatile platform that has a solution for all needs.
THE ELECTRONIC GELDBÖRSE (E-WALLET)
With ADVCash's E-Wallet you can normally receive payments and make transfers. This makes the shopping on the Internet easy, because you can immediately transfer without delay. If you send from an Advanced Cash account to another money so do.
There are also no annual fees for the use of this purse.
The euro, dollar, pound and the Russian ruble are currently available as normal currencies.
The exchange rate for the currencies is offered at optimal conditions without high commissions.
not incur any charges.
VIRTUAL OR REAL CREDIT CARD OF MASTERCARD
Advanced Cash offers a mastercard in euros and dollars. There are two variants: a virtual credit card, which can only be used online and a plastic card, which works at all acceptance points for Mastercard. With this one you can pay as normal at the shopping or withdraw money.
The plastic card you get against a one-time payment of 4.99 dollars.
You do not need to pay monthly or annual fees. With such a card, you can not withdraw more than 3,000 euros or dollars from a cash machine every day. The monthly limit is 90,000 euros / dollar. If you pull money from the cash machine you have to pay 1.99 euros / dollar to Advanced Cash. When shopping with the credit card, no additional charges apply.
The virtual card you get for 1 dollar and you can use it for the next three years without monthly or annual fees.
With both versions you can buy daily for no more than for 10 000 euro / dollar.
THE ADVANCED CASH CHARGES (FEES) IN THE OVERVIEW
The creation of an account remains free.
If you want to transfer money from your bank account to the Advanced Cash account via SEPA or SWIFT, you do not pay any fees unless it is a third party, then you have to print 1% of the total. For all other electronic currencies there are fees between 0.95% and a maximum of 4.25%. Bitcoins go to the current course at no extra cost.
Now to the payouts. The payout in Bitcoins is again made at the internal exchange rate. All electronic currencies are free of charge. If you pay out Mastercard you have to give a flat rate of $ 0.99 or Euro.
ADVCASH VERIFICATION
Some transactions are only possible for users who have verified themselves before, ie have proved their identity. This is necessary, for example, if you want to make a bank transfer to the Adv Cash account.
To be verified, you have to keep some documents ready and at least 18 years old. You definitely need your ID (or passport), where you can scan the front and back. It is important to ensure that the identity card is still valid, otherwise there will be difficulties.
The documents are then uploaded via the IDChecker and sent to them for verification. The team usually needs two or three working days to process. If everything has worked out, then you are then verified user and also has other limits when using the credit card. If inconsistencies are present and something can not be accepted, then it is directly communicated and you upload again a document, which corresponds to the conditions.
MY ADVCASH EXPERIENCES
I've been using AdvancedCash for several weeks now. The idea came to me through Questra World, since it is offered there as a payment method (just like OKPay). Since I am active there I needed an electronic wallet and have just used both OKPay and Advanced Cash.
The registration with Advanced Cash was completed within minutes and you can use almost all services. However, as I wanted to fill my account by bank transfer, I had to verify. Here I was particularly curious how they will handle it, since I have used several attempts at OKPay.
To my surprise this was very easy, since my personal ID has enough. So they recognized my identity and also my address and I could get started.
I use ADVCash mainly to move money between Questra, the electronic wallet and my bank account.
Because everything was very good and I was definitely satisfied, I also ordered the credit card. Because then I can save myself the step of the money laboriously transfer to my account.
The credit card is under the star of Mastercard, which is a great advantage. It is a well-known provider and it is accepted almost in every shop where credit cards are accepted.
What I also noticed positively is the charges. They are very small and often do not exist.
I recommend ADVCash to anyone who has a lot of business to do on the Internet, and especially to those who own or are cryptic.
The offered services are all executed correctly and above all quickly.
The downside is that the site is not yet available in German. If you understand some English, you should not have problems, as it is largely self-explanatory.