| | |
| --- | --- |
|  since | 2016 |
|  per click | to 0.0000071 |
|  Ref click | 10 % |
|  Cashout minimum         | 20000 Sat. |
|  Payout time | 24-72hrs |
|  Buy direct referrals | Yes |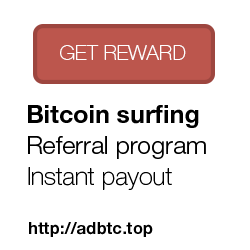 ADBTC is a PTC which pays in bitcoin . It is a site hosted in Russia. The latest status attributed to this site by NBR is Legit.
The average gain of the site is 20 satoshis per ads , the site offers in average 50+ ads per day and up to 35 satoshis per click.
You can also use autosurf for specific sites which have around 15 satoshis per surf.
At an average If a person views all sites and also uses autosurf can easily get around 5000 satoshi in a day.
The advertising starts at 20 satoshis PPC for a 15-second ad and up to 150 satoshis for a 60-second ad.
With this PTC you will win 7.5% of your referrals surfing. You can also sell your active referrals and buy them as well.
there are three earning options:
surf ads
auto surfing
surf in a new activate window
The minimum to payout is only 25,000 satoshis via bitcoin wallet or faucetpay.
The site has paid 24 bitcoin till now to 100179 of its users!!
This website is available in English.

 easy to use
no spam
withdraw with in 3 business days
Sufficient ads at a time
Stable PTC site