| | |
| --- | --- |
|  since | 2019 |
|  per day | up to 1000 |
|  Ref click | 10 % |
|  Cashout minimum         | 10000 |
|  Payout time | instant Tuesday |
|  Buy direct referrals | No |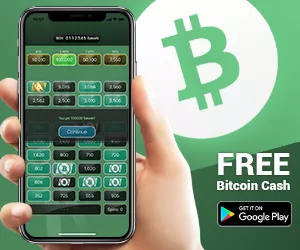 If you're familiar with crypto currencies you might already heard of bitcoin cash. In this post I will share to you a legit way to earn BITCOIN CASH and it's totally free. I've been using this app for a week now and already earned 60,000+ satoshi. So let's start.
1. First you need to download an app from the google play store. 
You can also click this link. It will take you directly to the app, less hassle free bitcoincash 
2.After registering you can now earn your bitcoin cash. Just click the hourly claim button on the app to spin. You have 2 free spin every hour. Each spin will give you satoshi as reward but you can only choose 1 of those. I advice to choose the higher amount of satoshi.
If you're not satisfied with the amount you get you can re-spin after watching an ads (not longer than 30secs.)
3.You can also earn satoshi by completing offers and entering the bonus claim.
4.They pay every tuesday for 10,000 satoshi above.It is automatic and you only need to wait the whole day for it to reflect in your crypto wallet.Just make sure to enter a correct BITCOIN CASH WALLET. They will not be responsible for any error that you made. Please take note that BITCOIN and BITCOIN CASH are different crypto.