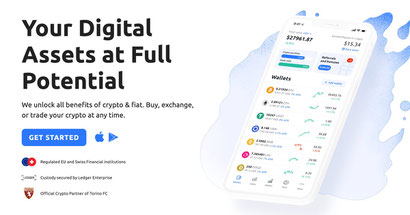 Have you ever considered maximizing your cryptocurrency? Sure enough, being around to trade your cryptocurrency assets for other altcoins on exchanges is a nice way to diversify your portfolio. Even more so is the idea of supporting various blockchain projects in the hopes that ROI is great.
Or, you can simply HODL. As any cryptocurrency investor or enthusiast would probably know by now, following the HODL philosophy may just be the best way to keep your digital assets secure and strong – given how volatile cryptocurrency is. 
And in essence, that's what this innovative platform YouHodler, has to offer. By offering fiat loans in exchange of cryptocurrency assets, it's essentially HODLing with additional perks of transparency and opportunities to diversify your coins. Let's find out more about this platform in this brief Review.
To get the $25 do one of these actions
Get a loan from 500 USD or EUR;
Get a Turbocharge from 500 USD or EUR;
Make any conversion (except fiat-to-fiat) from 1000 USD or EUR.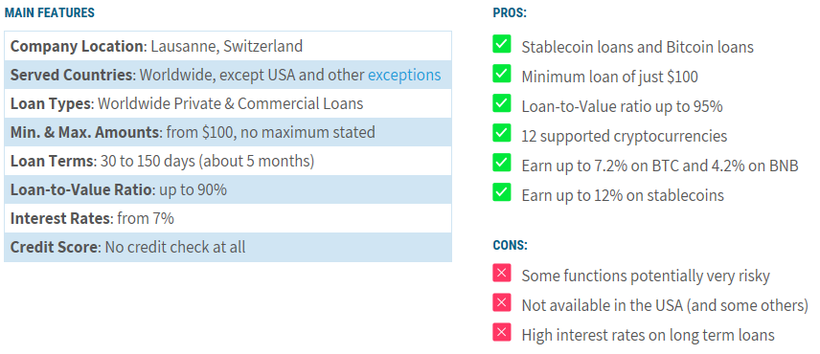 ---
What's the buzz with youhodler?
Essentially, YouHodler is an innovative fintech platform that maximizes the use of cryptocurrency, by using these coins as digital assets for users to use as loans. Loans can be used for fiat conversions (both in USD and EUR denominations). 
It's actually a really cutting-edge take on how to HODL. Instead of simply waiting (and praying) for a nice spike to sell (or convert, for whatever purpose there may be), YouHodler basically allows the convenience of users spending for necessary expenses and the like during a hold period. In other words, your HODL is now a flexible option – you can now move!
In summary, the platform provides these fine options:
For you to request a cryptocurrency backed loan
For you to purchase cryptocurrency using fiat
For you to convert both cryptocurrency and fiat funds
And lastly, for you to simply withdraw your fiat funds to a credit or debit card.
If anything, it's a platform that continues to offer more features that cryptocurrency fans will delight from!
Let us now talk more about the exciting loans feature that YouHodler has to offer. First, lets create a nice mindset. You are basically using your loaning opportunities on YouHodler as a way to hedge. This creates a way to create a solid and really flexible way to secure a spot in the cryptocurrency trading market. By having a crypto backed line of credit, you can get fiat as needed while letting your digital assets portfolio still work its magic (without even selling those precious coins of yours).
Think of it as something that allows you to have multiple options to move your cryptocurrency assets without having to consider massive amounts of risk!
And, just to emphasize how great YouHodler is, this platform knows its stuff – YouHodler may very well be the only crypto backed lending platform that offers a very nice rate when it comes to loan to value ratio. At 85% LTV, you can't go wrong in this platform!
Breaking Down the youhodler collateral loan process:
Let us simplify the process. Depending on the value of your set digital assets you place on YouHodler, you can borrow funds on a certain denomination. Key points to consider with this nice process are:
Simply and instantly request for a loan by using your cryptocurrency digital assets as collateral.
Have the loan converted into fiat for your use.
When you have paid back the loan, you will gain back the corresponding digital assets you have place (you still get to keep it, even if the original amount of assets you have designated increased in value!
Sounds great, right? 
Now, in terms of loan types, you have these three options:
A 30 days loan
A 50 days loan
A 120 days loan
Individual loan plans are also available – feel free to contact Bill Hodler (more about him below) for more information!
Interest, of course, applies for the corresponding loan options that you choose. Interest varies primarily because YouHodler wants to maintain a level of transparency and fairness among its users. By maintaining this high level of trust, everybody wins with better loan (and interest) rates that will be applied to everyone on the YouHodler platform. In fact, and just to prove how important trust and transparency is, the amount of collateral you have will not determine your interest rate. Everyone is of equal rank here – it really is a fair market in YouHodler.
Crypto-Backed Loans:
One of the most important services offered by YouHodler is a cryptocurrency-backed loan, available in any supported by the platform coins. Depending on the chosen token, you will be able to pick one of the available plans:
Extreme plan. Loan-to-value ratio at 95%, 30 days to pay back, 5% interest, -5% price down limit.
Bull Run plan. Loan-to-value ratio at 80%, 30 days to pay back, 7% interest, -10% price down limit.
Two Seasons HODL plan. Loan-to-value ratio at 70%, 180 days to pay back, 16% interest, -20% price down limit.
Anti-Crisis plan. Loan-to-value ratio at 60%, 50 days to pay back, 7% interest, -35% price down limit.
HODLer's Favorite plan. Loan-to-value ratio at 55%, 120 days to pay back, 13% interest, -40% price down limit.
Rules are simple. You pick a cryptocurrency that you want to back your loan with and loan currency. After that system will automatically calculate how much you will owe, and what will be your deadline, after which YouHodler will use the collateral to cover your loan. Your collateral will also be used if the price hits the price down limit, listed above.
What makes YouHodler different from the competition, it's the ability to set a close price, after which the system will automatically use the collateral to pay the loan and deposit what is left back to your wallet. "Set Close Price" is used to capitalize on potential gains due to the rising price of the collateralized token. Basically, it works the same as "Take Profit" used in trading.
Flexible Exit Strategy:
Additionally, YouHodler maintains transparent and flexible actions that a user can use when an exit strategy is to be done. Aside from having access to user-friendly and 24/7 support, users can choose from several options to control their assets at a given point of time:
Unique youhodler margin trading Suite is awesome:
YouHodler also works as a conventional cryptocurrency exchange platform – with so much perks involved! In fact, with the margin trading suite option available, an entire line of exciting trade features are available for you to use! In a nutshell, what you have are some of the best features that most cryptocurrency exchanges have, with these additional benefits.
YouHodler now incorporates trading charts in unique and efficient time frames (an hour, 24 hours, 30 days, 90 days, and 120 days time denominations).
You do have to wonder how amazing this is – and it's evolving, with YouHodler staff on the go to create even more features for traders to use soon!
Also, and in terms of cryptocurrency support, the main coins featured on the platform are:
Bitcoin (BTC) 
Bitcoin Cash (BCH) 
Ethereum (ETH) 
Litecoin (LTC) 
Stellar Lumens (XLM) 
Ripple (XRP) DASH 
Augur (REP)
More altcoins and tokens are available as well. Check out their exchange platform for more Details.
Saving for a rainy day - the youhodler usdr saving account:
A really nice feature that YouHodler has is the option for users to profit from cryptocurrency assets vian means of a USDT account. By simply transferring assets towards your SAVINGS USDT wallet, you're basically making your coins grow! Do take note of these important reminders if you do choose to go with this option:
There is a settlement period when you deposit funds towards your SAVINGS USDT wallet.
Releasing funds from the SAVINGS USDT wallet before the end of the settlement period will make you lose the perks of the interest rates that were supposed to be applied.
If you do add more funds within a set settlement period, then those interest rates will be applied towards the next settlement period.
Once a settlement period is done, you do have the option to release your funds or keep it in the SAVINGS USDT wallet for potential profit during the next settlement period.
Amazing and profitable – YouHodler's on a roll!
How to set up a youhodler account:
Now, on to the important parts. Let's quickly break down on how to set up a YouHodler account below:
Visit the

youhodler.com

site.
Create an account either on the GET LOAN link or the signup link.
A basic email registration will be required from you.
Next up, a basica KYC (know your customer) signup will be asked from you.
KYC essentials required from you are: a certified ID/identity document, a selfie with your designated document, and inputting personal information.
Lastly, set up 2FA protocol for a safer and more convenient YouHodler experience.
It is that easy – and now you can start experiencing the many wonders that YouHodler has for cryptocurrency traders, investors, and enthusiasts.
Very important for signups:
Because of fintech or government regulations on cryptocurrency, YouHodler CANNOT provide any service to citizens of these countries: USA, China, Bangladesh, Iraq, and Pakistan.
Is youhodler safe?
Security is paramount in YouHodler. After all, the innovative idea of maximizing cryptocurrency as a form of collateral is also a target for potential attacks. Here's how the platform assures you of a safe experience:
Bank accounts and financial holdings linked to the YouHodler platform are based at Switzerland (solid security!).
The platform has (and continues to add) several partnerships with some of the best fiat payment providers in the scene today.
The platform also has (and continues to add) several partnerships with some of the best cryptocurrency exchanges in the industry.
The YouHodler platform makes use of its own wallet system (that is secured with industry-leading standards and continuous code audits).
All Statements without guarantee!