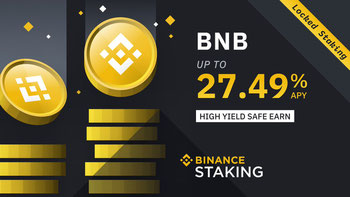 Binance has recently launched its lending platform that works on a first-come, first-served basis. Users are able to lend their USDT, BNB, BTC as well as other 23 cryptocurrencies. 
The last batch of products was for privacy coins, DASH, XMR, and ZEC with a 3.5% annualized rate. Binance will constantly add new coins and tokens based on demand. Users have only limited time to 'subscribe' and a limit on how much they can lend.
Pretty much all lending products have an initial 14-day period after which the initial amount and the interest will automatically be sent to your account. Users will need to re-subscribe for the next period if they want to lend their coins again. 
The interest rate is guaranteed, which means that users will profit from it unless the value of the specific asset goes down by a lot. Binance stated that the total lending amount for each cryptocurrency is based solely on the demand of Margin Trading.
Not all cryptocurrencies have the same annualized rate, they will range from 3.5% up to 14% in some cases. 
How to use it
You will only need to be registered on Binance, verification is not needed to lend coins. There will be a preparation period before the lending actually starts. Users will be able to check the annualized rate, the period of lending, the maximum amount they can purchase and other specifications.
Once the user has picked the asset he wants to lend, he will need to make sure he has the balance available as pending orders do not count. Once the user clicks 'Subscribe' he will be prompted with another window that shows the expected value of the investment as well as the value and redemption dates. 
Everything else will happen automatically, however, if the user wants to lend for a longer period of time he will need to re-subscribe manually.
Binance has stated that the Binance lending assets will be used in cryptocurrency leveraged borrowing business on Binance.
A guaranteed interest rate of up to 14% annually is actually amazing, however, there are some risks associated with it. Of course, the rate is guaranteed but what happens when the specific asset you are lending starts to crash? Your funds are locked, you cannot sell them and the interest rate you make might be far lower than what you lost during the crash. 
That's why it's important to lend less volatile assets. Users can also profit from the lending service whenever they think an asset is very likely to go up in the long term as you are profiting from the percentage gained from the asset going up as well as the interest acquired.
Really, the only inconvenience of the Binance lending service is the fact that you can only lend an asset for 14 days. The need to re-subscribe all the time makes this a not-so-passive investment anymore as you will need to monitor it every once in a while.