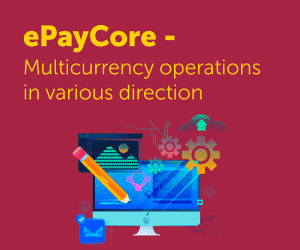 Wallet.epaycore.com is a multifunctional payment service that allows you to conduct an internal exchange without a fee, as well as work with fiat and cryptocurrency. Plus, it is possible to replenish the account through popular payment systems, while the presented commissions are among the most loyal.
Large market players will be interested in the fact that there are no restrictions on transactions: neither in quantity nor in sums. Already today they say that the payment has every chance to replace one of the once-popular online projects on the market. I understand the rules of registration, interface features and principles of operation in more detail.
In its form, it is a multifunctional payment service that entered the 11 market in February, and we can say that it is quite actively conquering the world. In its form, it is a multifunctional payment service with a corporate wallet, which is designed for 3 different currencies. Looking ahead, it is worth noting a number of positive points in working with the service:
lack of mandatory verification;
there are no limits on operations;
there are enough loyal commissions, and in some areas even their absence.
An important feature is that the payment service site is certified according to PCI DSS standards. This certificate is currently an indicator of the highest information security, so it is not surprising that Visa and American Express also have it.
You can work with the payment system in English and Russian, of course, this makes the service more popular, especially for the CIS audience. The service is adapted not only for the computer, but also for the mobile version and always in real time you can learn about the status of the transaction. For me it is always important when the support service works not just promptly and professionally, but also around the clock.
Get an account is quite simple: you need to go through a simple registration procedure. To do this, on the main page in a special field, enter your e-mail or phone number in international format, and expect to send a PIN code from 6 characters. Enter it, then automatically generated a password for the first login.
According to its interface, we can say that the wallet is quite understandable, informative, it is easy for even a novice to work with it. On the left are the main functions for work. You can replenish your wallet, withdraw funds, pay for a number of goods or services. The principle is simple: indicate the purse to which funds are transferred.
I have already noted that in Wallet.epaycore.com the proposed commissions are among the most loyal. I think that over time, as the service becomes more popular, the administration will revise them upwards, but so far they are very beneficial both for rare use and for regular ones with large amounts. I suggest to get acquainted with them in detail.
Of course, it is always important for the user when he is offered low commissions for work. In the payment service, they are just like that, but internal transfers are free of charge. Wallet.epaycore.com has an internal exchanger in the wallet, where you can exchange amounts in a different direction, including cryptocurrency. There are no questions in the segment of anonymity of operations, which is extremely important for a modern client. So far, there are no complaints about this technical part of the work, I hope this will continue.