| | |
| --- | --- |
|  since | 2020 |
|  per click | to 1000 ZEN |
|  Ref click | 20 % |
|  Cashout minimum         | automatic |
|  Payout time | automatic |
|  Buy direct referrals | No |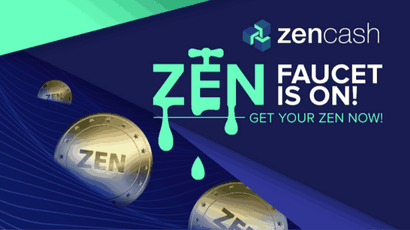 Horizen (ZEN) cryptocurrency is one of the most promising in recent years. In this article, you will learn how to earn ZEN through the official GetZEN Cash Faucet, learn how to use this cryptocurrency faucet and earn more in it, and at the end of the article, you can find reviews about the GetZEN Cash Faucet.
GetZEN Cash or ZENHUB  is the official cryptocurrency faucet launched by the HORIZEN (ZEN) cryptocurrency project team. The Faucet is new, but actively developing.
Earnings HORIZEN (ZEN) without investment — a profitable option for additional income. As the cryptocurrency is very promising and growing well in price, traded on many well-known cryptocurrency exchanges.
We will start by creating a personal account and explaining how to earn ZEN in the faucet.
GetZEN Cash registration
· On the right side of the menu, switch to the English version of the website.
· Choose "Registration" in the menu.
· Specify name, password to your account and Email (you can use accounts registered only at Gmail).
· Confirm registration (you will receive an email with a link to activate your account in the faucet).
· When registration is complete, you can login to your personal cabinet and get your first free ZEN!
Earning ZEN cryptocurrency in GetZEN Cash
In the ZENHUB faucet, there are 2 main options for making money- the daily collection of cryptocurrency HORIZEN (ZEN) and multi-level referral program (4 levels: 20% — 10% — 5% — 3%).
You can claim ZEN once a day. However, to motivate users in the faucet there are many bonuses and incentives. To increase your income you need:
- Social Media Multiplier. You need to bind accounts on social networks (you can bind Google, Twitter, Facebook, Linkedin accounts with one click in the account settings).
- Link official ZEN wallet. You can go to your account settings and download an official ZEN wallet to your PC or cell phone and specify its address (after installation) in the account settings.
- HODL Bonus. You can get additional bonuses for keeping ZEN in your ZEN wallet (connected to your account in the settings).
- Use Brave browser. With the popular Brave cryptographic browser, you can increase your revenue by 20% when you log in to faucet.
- Bonus for daily login to the faucet. Every fifth day you can get an extra ZEN fee on the tap (ZEN coins turn blue in the menu, click on them and get the bonus).
By setting up your account and getting all these bonuses, you can increase your faucet income by almost 7 times!
How to withdraw ZEN from the Faucet
You can withdraw your earned ZEN cryptocurrency to your ZEN wallet, and from it to Binance exchange (you can sell it there for USD, EUR). You can withdraw it on the official ZEN wallet at any time by request or it will be automatically withdrawn.
At the moment of this writing, ZEN cryptocurrency costs over 6 USD.
Pros
- High-quality official cryptocurrency faucet.
- The site works in many languages.
- ZEN — promising cryptocurrency, growing in price.
- You can collect ZEN every day.
- There are many bonuses in the faucet.
- Favorable affiliate program.
Cons
- Without activation of bonuses not high daily income.