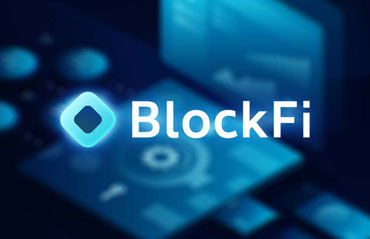 BlockFi is the regulated and transparent crypto lending platform investors have long been waiting for. The company is experiencing a massive 25% monthly user growth and is set to become a dominant player in the centralized crypto finance space, fueled by venture capital from big dogs like Peter Thiel (founder of PayPal), Coinbase, and the Winklevoss twins.
Headquartered in New York, BlockFi is a peer-to-peer lending platform for crypto-backed loans, providing investors with high yield interest accounts with compounding returns and crypto-to-USD loans to borrowers at attractive rates.
BlockFi is licensed by 30 top-tier financial authorities in the US and uses NYDFS-regulated Gemini for storing clients assets under strict banking laws, making it a trusted provider for interest-bearing crypto accounts and for borrowing cash or stablecoins without selling your crypto.
Having spent months testing the best cryptocurrency lending platforms and interest accounts, these are our top takeaways for BlockFi:
Launched by Zac Prince and Flori Marquez in 2017, BlockFi is a leading cryptocurrency lending and loan platform that has raised over $100m since founding, with backing from financial gladiators like Valar Ventures, Fidelity, SoFi, and Coinbase.
BlockFi is licensed in multiple US states, uses banking-regulated Gemini as custodian, and only lends funds to institutional and corporate borrowers with overcollateralization, making it a trusted platform for crypto lending.
Interest rates and fees at BlockFi are easy to understand and competitive, thanks to its effective yield based on monthly compounding, core number of supported currencies, free monthly withdrawals, and low-end trading fees.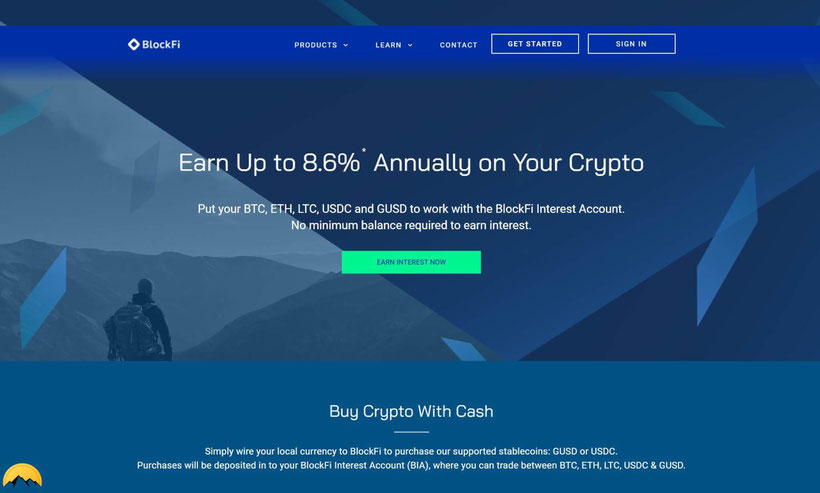 BlockFi offers a limited selection of products for borrowers and lenders: flexible crypto savings accounts with no minimum lock-up period, crypto loans with no credit checks, and a simple trading feature.
Investors can enjoy around 8.6% annual percentage yield on PAX, USDC, and GUSD, 6% on BTC, 4.5% on ETH, and 5% on LTC. Borrowers, on the other hand, can get an instant USD or stablecoin loan at attractive rates by putting their Bitcoin or Ether up as collateral.
Other advantages include worldwide accessibility, free monthly withdrawals, high trust, and the safety of investing alongside big institutional players. Account opening is also fast and intuitive.
On the negative side, BlockFi has a limited product portfolio, supporting only six currencies, with no extra frills like high-risk staking awards or cashback debit cards. In terms of aesthetics, the web design feels dated, although easy to navigate.
In May 2020, BlockFi suffered a security breach. One of its employees was targeted by hackers who performed a SIM swap attack, gaining access to confidential customer data, such as personal names, dates of birth, postal addresses and activity histories. While no funds were lost, the leak may pose a problem for customers in the future on other fronts.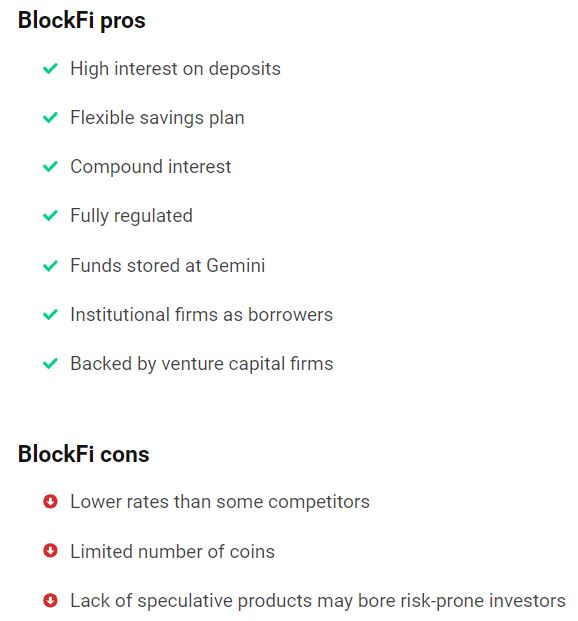 BlockFi was founded by Zac Prince who spent several years working in the online peer-to-peer lending industry serving different leadership roles. His journey into the rabbit hole of cryptocurrencies started around 2015 when he bought and sold Bitcoin for the first time. Wanting to combine this personal interest with his professional working experience, he launched BlockFi in 2017 with co-founder Flori Marquez.
The company raised $60m in equity and was the first to receive institutional backing for issuing crypto-backed loans. The flagship product gave crypto-holders the ability to convert their assets into real USD without having to actually giving it up. Shortly after, in 2019, BlockFi released its second core product, the interest-bearing cryptocurrency accounts.
BlockFi grew its revenue over 20x in 2019 and now claims a loan book worth more than $650m, with a 0% loss of funds since inception in 2018. This fact led to a second round of funding that raised $30m from prominent investors such as Valar Ventures and Winklevoss Capital. In Q2 of 2020, BlockFi posted another revenue increase amounting to 100%.