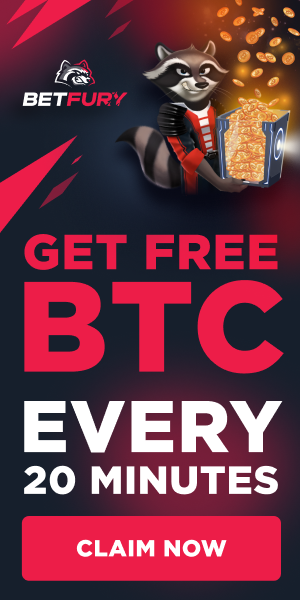 BetFury is a social i-Gaming crypto platform with the first BTC Dividends pool in the i-gaming market that combines crypto and entertainment industries power!
BetFury managed to grow out from gaming startup to a large platform with the best gaming opportunities: BFG Staking, easy login system, Dividends pool in BTC, TRX, USDT, BTT, 1000+ Games, Rank VIP system, Jackpots, Cashback up to 25%, friendly 24/7 support.
The platform provides not only the i-Gaming experience but also profitable investment attractiveness! By Staking BFG tokens everyone can receive a part of the platform's profit from the Dividends pool. Enjoy the i-Gaming experience you deserve! You Play — We Pay!
Source: betfury

How can I earn BTC for free?
Only days ago Betfury released it's so called "Secret Project". It is a BTC Faucet of a kind, but also much more. Every 20 minutes, as a registered user on Betfury.io, you will be able to earn 25 Satoshi, by doing nothing. You can then freely play with those, withdrawal them or do anything else you would like.
How does it work?
The Free Box is constantly replenishing with Bitcoins. Once 20 min pass, coins can be withdrawn. Press "Withdraw", pass a Captcha and get BTC on your game balance. That's it!
Come back every 20min for a new free roll and earn up to 1800 Satoshi of Daily Payouts. ( Source)
That's it — simple isn't it? But that is not all! Betfury has been around for 10 months now and the platform and it's team has build up a solid product and a big community behind it. Furthermore they have paid hundreds of thousands of $ in dividends, jackpots and big wins. If you are searching for a fun, but fair gaming/gambling experience, you certainly will be happy with Betfury.
Let's get back to the Boxes. We already mentioned how you can earn free BTC with them, but if you are an investor you will like what other options you have:
It is almost self explanatory — there are 3 further Boxes you can buy for BTC. Each one of them will generate you profits for 1 month.
Ruby Box: Price 0.001 BTC, Monthly Profit: 111%
Emerald Box: Price 0.01 BTC, Monthly Profit 109%
Sapphire Box: Price 0.05 BTC, Monthly Profit 110%
Summary:
Betfury.io is definitely a platform to watch and with it's newest feature — to earn free BTC, it makes it easy to earn crypto even for users who don't know much about crypto in general. Now noone needs to invest real money to mine the platforms token BFG and start earning passive income from it. Furthermore with some luck you might turn those free BTC coins into a small fortune. The dividends payouts have been steady for months now and the user base has been growing aswell. More and more content is being added on weekly bases.