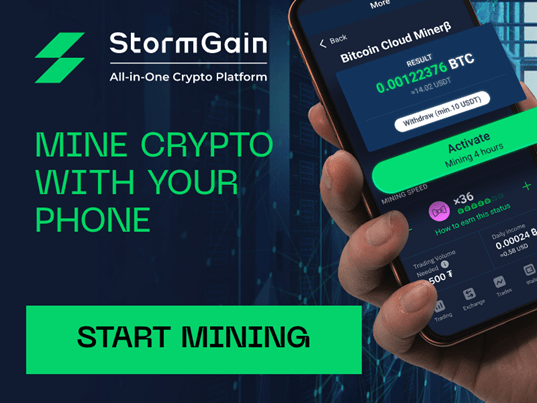 StormGain is a cryptocurrency exchange and leveraged trading broker, with a built-in multi-currency wallet. The all-in-one platform offers some unique features, including its Cloud Miner tool, loyalty programme, and hassle-free login process. Read our review to find out if StormGain is a legit and safe platform.
StormGain Company Details
StormGain was founded in 2019 and is registered in Saint Vincent and the Grenadines. The company is not yet regulated but has gained serious momentum since its inception, with its services now reaching over 120,000 clients in more than 100 countries.
The company is well known as the Newcastle United Football Club (NUFC) sponsor during the 2019-2020 season. StormGain has also featured in several online media publications for its innovative trading service.
StormGain Web Terminal
StormGain's margin trading and investing desktop platform offers a user-friendly and customisable dashboard, that allows clients to view rising and falling assets.
With 9 time-frames to choose from, traders can take advantage of a variety of charting tools to track trends and price movements in full-screen mode. The platform also offers over 40 technical indicators including Ichimoku Cloud and Stochastics.
The terminal is available in over 10 languages and the in-platform live chat and video tutorials are particularly useful for beginners.
The platform is accessible straight from the website for those who want to browse the features and the registration form is quick and easy to complete.
Users can trade on 20+ cryptocurrency futures contracts including popular pairs like DASH/BTC and NEO/USDT. Much like Coinbase, users can also buy and hold coins in an integrated crypto wallet in six popular currencies: Bitcoin, Bitcoin Cash, Tether, Litecoin, Ethereum, and Ripple.
Commission
Pricing is competitive and transparent at StormGain. For crypto trading, instead of spreads, StormGain charges a commission. On average, commissions for most USDT and BTC pairs are between 0.19% and 0.20%. Commission on exchange services ranges from 0.095% to 0.25%.
Leverage
StormGain allows crypto trading with a multiplier up to x200, which is higher than most competitors. Though it seems attractive, beginners should be aware that high leverage can lead to as many losses as wins. Still, if you're looking to trade big with minimal capital, then this broker is a good option.
Mobile Apps
StormGain's all-in-one app has everything you need to exchange, store, and trade cryptocurrencies. Traders enjoy 24/7 access to trading signals, push notifications, charts, and technical analysis tools. Mobile crypto mining is also available within the app, which we'll cover later in this review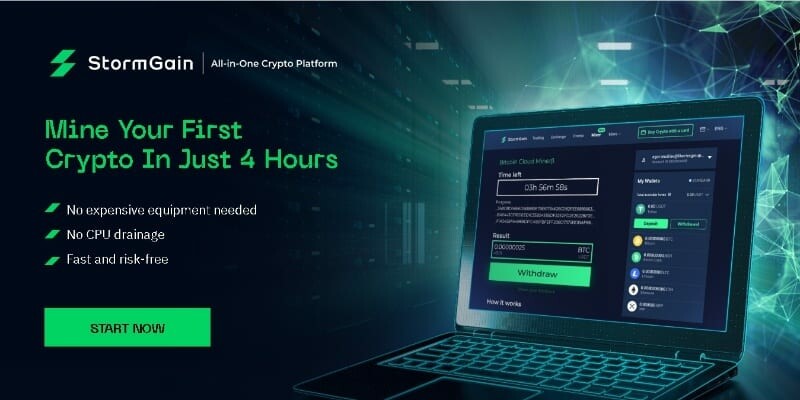 Users can download the StormGain mobile app onto iOS and Android (APK) smart devices, from the App Store or Google Play.
Payment Methods
With StormGain, you can buy cryptocurrencies directly from the platform with your credit or debit card. The minimum deposit (fiat or crypto) is $50 and there is a 5% deposit commission at a minimum of $10.
You can withdraw funds by transferring them to a wallet. The minimum amount for withdrawals is 50 USDT (or equivalent in another cryptocurrency). There is a 0.1% fee for withdrawals.
All transactions generally take up to 30 minutes to be processed. There is an easy to follow guide on how to deposit and withdraw through the platform available on the website.
Note PayPal is not accepted.
Demo Account
StormGain offers a demo account with 50,000 USDT in virtual funds to practice trading with. A no-risk demo account is a great tool for beginners looking to test the waters before committing to a live account. It can be active for as long as needed and users can easily switch between demo and live accounts within the dashboard.
Bonuses & Promo Codes
StormGain offers deposit bonuses for each account, in the form of a loyalty progamme, starting from 5% for Gold members and going up to 20% for VIP 3 members. Bonus funds can be used for trading but cannot be withdrawn. You can also earn up to 12% interest on deposits, starting from 3% for Gold members and increasing to 12% for VIP 3 members. The company has previously offered a promo code for a 25 USDT no deposit bonus and also a Coin Contest.
Traders should check the website for any future promo deals and competitions.
Regulation & Reputation
As StormGain has only been around since 2019, the company is not yet regulated. That being said, the company is a member of the Blockchain Association, which regulates companies who trade digital assets.
Cryptocurrency brokers are still relatively new to the online trading space and there are some scams, so we always recommend reading reviews before opening an account.
Additional Features
A unique feature of StormGain's platform is the new Cloud Miner tool, which allows users to mine their own cryptocurrency from their phone, without the need for any additional equipment. As the tool is hosted on remote cloud servers, the Cloud Miner is fast and won't drain your battery.
The tool is completely free once you have registered for an account. Simply open the tool and begin mining every 4 hours until you get your first 10 USDT worth of crypto to trade with.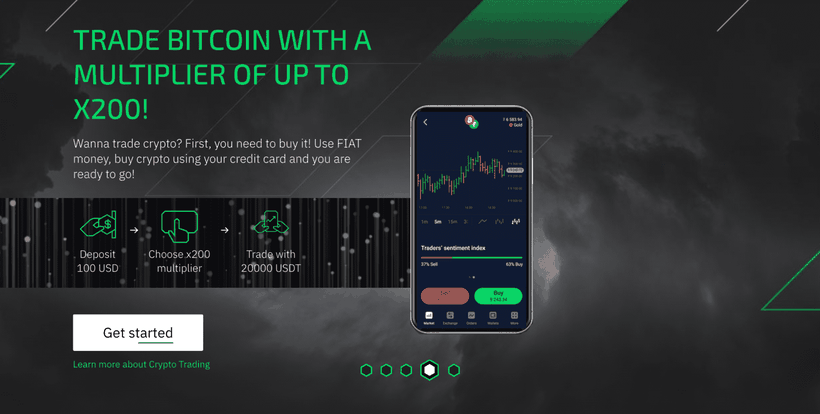 There are some other useful resources available, including the news forum section containing articles and tips, as well as video education and courses for beginners. However, more established exchanges such as Binance may deliver a more comprehensive selection.
Account Structure
StormGain's 5-tiered loyalty programme is broken down into Standard, Gold, Platinum, Diamond, VIP, VIP 2, and VIP 3. Each status is defined by the volume traded or exchanged. There is no volume requirement with the Standard level, but for the VIP 3 level, you would need 75,000,000 USDT.
As mentioned previously, users can earn deposit bonuses based on these levels and earn up to 12% interest the higher up you go. Users can also benefit from a trading commission discount up to 40% and lower exchange commissions at higher levels.
Setting up an account is easy and fast. Contrary to most other brokers, StormGain doesn't require a time-consuming KYC process for new user registrations.
Benefits
StormGain Verdict
StormGain offers a competitive all-in-one service providing cryptocurrency exchange, margin trading, and multi-currency wallets on a safe and secure platform. Traders of all levels can also take advantage of the unique Cloud Miner feature and the high multiplier level. It would be nice, however, to see some more resources and research, aside from the video education and support hub. Overall though, StormGain is a solid cryptocurrency trading broker.
Accepted Countries
StormGain accepts traders from Australia, Thailand, Canada, United Kingdom, South Africa, Singapore, Hong Kong, India, France, Germany, Norway, Sweden, Italy, Denmark, United Arab Emirates, Saudi Arabia, Kuwait, Luxembourg, Qatar and most other countries.
Traders can not use StormGain from United States, Afghanistan, Japan, Bosnia And Herzegovina, Guyana, Iraq, Laos, Yemen, Vanuatu, Uganda, Syria, Ethiopia, Sri Lanka, Trinidad And Tobago, Tunisia, Iran, Korea,