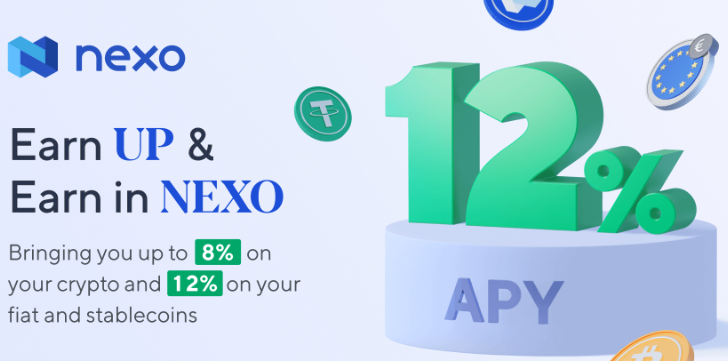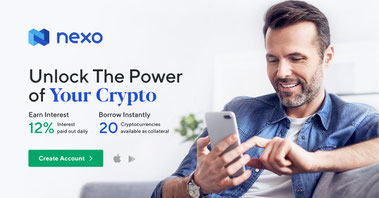 Nexo describes itself as the world's leading regulated financial Institution for digital assets. Antoni Trenchev is the co-founder and managing partner. It was founded in 2017 and is based in London, England. Nexo has raised $52.5 million in funding and claims to have over $15 billion in assets under management.
Nexo is a cryptocurrency platform that allows customers to earn interest on crypto deposits and also take out loans. Below we break down how each option works.
Interest can be earned on crypto and stablecoins. Crypto pays up to 8% while stablecoins pay up to 12%. Interest is compounded daily which means you get an interest payout every day. Money can be added and withdrawn at any time. There isn't any lockup period on deposits.
While fiat money can be withdrawn at any time, there are limits on the number of times you can withdraw crypto. These limits range from 1 to 5 times per month and are dependent on your loyalty tier. Here are the four tiers, their requirements.
To earn between 8% and 12%, at least 10% of your portfolio will need to be in Nexo so that you're eligible to be a Platinum-level client.
In total, there are 11 cryptocurrencies, 6 stablecoins, and 3 fiats (USD, EUR, GBP) that are accepted for deposit. Notably, Nexo is currently offering 12% APR on all three fiat currencies.
Interest rates are also dependent on the time held. A one-month holding period will earn 1% more and a three-month holding period will earn 4% more. It isn't clear if these rates are on top of those quoted above and if they apply only to NEXO deposits.
You can deposit funds directly from your bank (i.e., fiat currency) or transfer crypto from a wallet or exchange. Bank transfers will take between 1-3 days.
Nexo allows you to borrow in cash or stablecoins without a credit check. Rates start at 5.9%, and you don't have to sell your crypto. The borrowed amount is called a credit line. You can borrow from $50 to $2 million. You can keep borrowing until you hit your credit limit.
The amount you can borrow is dependent on the amount of crypto you have on deposit. For example, for Bitcoin, your credit line will be 50% of the BTC on deposit and will fluctuate based on BTC's market value. For other cryptos, the amount might be more or less than 50%.
If the value of your crypto begins dropping, you'll receive an email from Nexo to deposit more crypto to maintain your collateral. If you don't deposit more crypto, funds will move from your savings wallet to your collateral account. If there isn't anything in your savings wallet, Nexo will begin selling off your collateral to repay the loan.
You can spend the borrowed amount as cash, crypto, or by using the Nexo card. Since you don't have to sell any crypto in order to borrow, you avoid a potentially taxable event (in the event that the crypto was sold at a profit).
here are no fees for depositing or withdrawing fiat or moving crypto into your Nexo Wallet. And, as mentioned previously, Nexo customers will receive 1-5 free crypto withdrawals per month based on their loyalty tier.
But what if you want to make more crypto withdrawals in a given month than you're allowed to do for free at your tier level? In these cases, it's unclear what you'd be charged. We couldn't find a crypto withdrawal fee structure listed anywhere on Nexo's site.
If you decide to borrow against your crypto assets, you'll of course be charged interest until your loan is repaid. Borrowed funds start at a 6.9% interest rate. There are no origination or early pay-off fees.
Safe?
Nexo isn't a U.S. company and doesn't follow U.S. regulations or offer FDIC insurance. But its custodial wallet does use cold storage that is held in military-grade Class III vaults. And it also has $375 million insurance on custodial assets and says it aims to increase its insurance coverage to $1 billion in 2021. That means that you're protected against the loss or theft of your private keys.