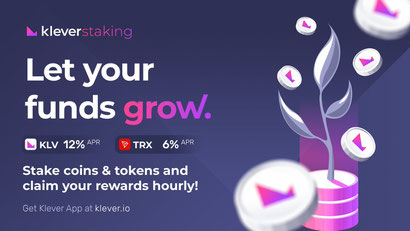 The Klever App is a safe, secure and decentralized P2P crypto wallet for Bitcoin (BTC), TRON (TRX), Ethereum (ETH) and other top coins, tokens and cryptocurrencies.
With over 750,000 downloads from 193 countries worldwide, the Klever App attracts a global audience of blockchain enthusiasts and cryptocurrency holders.
The wallet is in 30 different languages.
The Klever app is based on the Klever operating system, which uses advanced security mechanisms that fully protect the user's private keys and makes private keys and confidential data available only on the specific device of the user. The latest military technology standard is used for encryption. This means that you really own and control your Bitcoin, TRON, Ethereum and other crypto tokens.
No third party, including the Klever app, can access your private keys or restrict a transaction that the user chooses to do.
Transactions of coins and tokens are direct, secure and fast and are immediately recorded in the blockchain. The Klever app lets you use the widest range of dapps on the blockchain, including games, entertainment, decentralized finance and other uses for distributed P2P ledger applications.
With the app's integrated secure web browser, users can explore dapps, decentralized services and products at the touch of a button. With the Klever app you can exchange Bitcoin (BTC), TRON (TRX), Ethereum (ETH) and other cryptocurrencies and trade your tokens in an easy, fast and convenient way at low cost with the native swap tool.
Klever app support for p2p Bitcoin (BTC) uses SegWit technology, which means that the transfer of coins in the wallet is faster and safer.